Equipment and Technical Support
Creative Studio
Primary Contact: Vanessa Rodriguez 
The Creative Studio provides expert support and consultation in the use of digital media. The Creative Studio loans out Magic Leap Headsets as well as VR gear. It is also the best place to inquire about available XR resources around campus. Learn more about the Creative Studio here.
Learning with XR
Academic Technologies
Primary Contact: Gemma Henderson
 Academic Technologies works closely with faculty members, students, and university stakeholders on projects related to teaching and learning, including labs, student technology support, instructional design, and learning platforms. Previous XR projects have included leading faculty learning communities, hosting workshops, and partnering on course projects related to augmented reality, virtual reality, and spatial computing. To explore ways to meaningfully transform courses and teaching strategies that involve extended reality technologies, contact academictechnologies@miami.edu.
Learning and Research Labs
XR Studio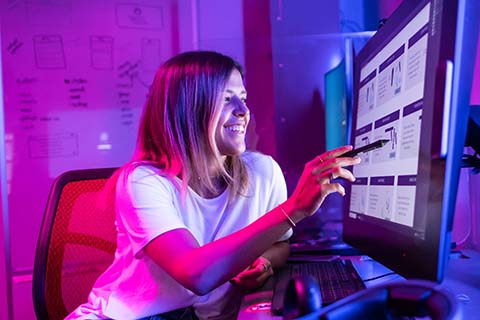 Primary Contact: Zeven Rodriguez
Located at the School of Communication, the XR Studio is a state-of-the-art studio space dedicated to the design and development of XR media. Specialized equipment is available for the development of games, spherical films, volumetric capture, photogrammetry, 3D scans, and more in addition to a suite of plug-and-play 6DoF VR gear ready for use. 
RAD Lab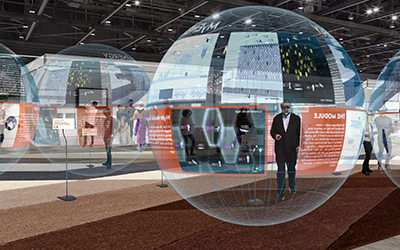 Primary Contact: Chris Chung
Located at the School of Architecture, RAD Lab provides resources and expertise for project-based research on the spatial ramifications of embedded technology, ubiquitous computing, and mixed-reality.  Computing is migrating from dedicated static appliances to mobile devices, mixed-reality headsets, objects of everyday life, and physical environments thanks to increasingly proliferating microchips and ever-expanding information networks. RAD-UM capitalizes on this potential, bringing research to bear on the built environment from a variety of fields that exploit the spatial consequences of distributed computing: responsive and interactive systems, mixed-reality, embedded/situated technology, ambient intelligence, mobile computing, and locative media. 
App Development
XR Garage
Primary Contact: Max Cacchione
In partnership with Magic Leap, the University of Miami's Faculty of Engineering created a space where ideas come to life. In the XR Garage, students partner with faculty to develop VR/AR/MR/XR applications for purposes of supporting curricula, research, and health. Learn more about the XR Garage here.